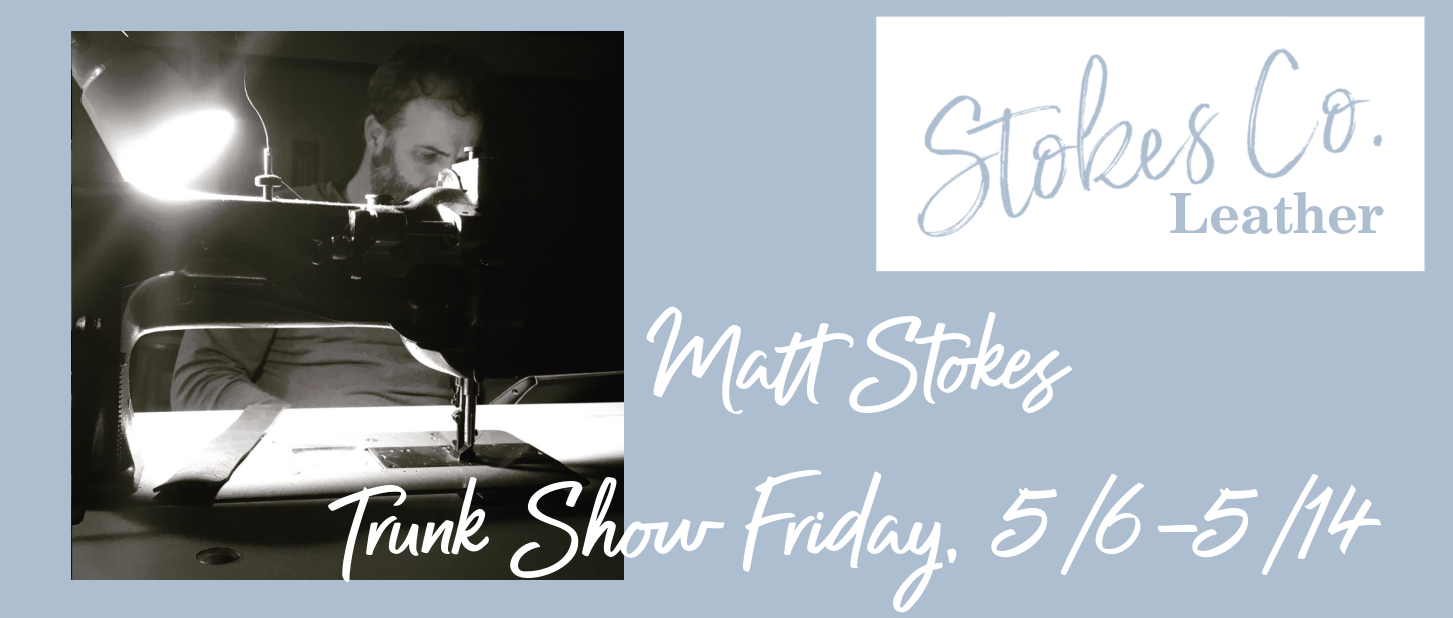 Desperado has proudly been carrying this incredible line of locally made top grain leather bags and totes… but it is our pleasure to be hosting our first Trunk Show with Matt Stokes.  We recently asked Matt to share his story with us.  Here it is in his own words…

Matt Stokes/Stokes Co. Leather
My parents moved us here when I was 2 years old in 1976, I have always been motivated by creating, art has always been a big part of who I am.
I love to fly fish and spend time on the river, but I don't do very much anymore. Since starting my leather work I have given it almost everything I have. I feel like I am doing the thing I love more than anything, so my life is a vacation. I'd rather be in my shop than just about anywhere.
I have been doing leatherwork for about five years now. I began very organically, at the time I was a metal artist, and I wanted to learn how to sew so that I could patch my own clothing, and also make bags for safe transport of my artwork to and from shows. What started as a simple desire to sew turned into a passion once I started designing and building canvas bags. I fell in love with the process, never taking a lesson, nor watching a youtube video I learned the hardest possible way by trial and error. I knew at some point I would be able to see how other bags were made by simply looking at them so I really wanted to maintain my own artistic style before that day came. Once I decided to add some leather accents to my canvas bags, I realized that the leather was simply amazing to work with. It became my new medium. I designed several staple bags in my collection that are always available, however, my true heart still longs to create, design and build something totally original (even if it is just for me)!

You can meet Matt at Desperado this Friday, May 6th from 5-8 at ArtWalk!  This special collection of handbags will be at the store (while supplies last) through next Saturday.
10% off ALL sales at Desperado during the 5/6 ArtWalk from 5-8 will be donated to COVO.
the Central Oregon Veterans Outreach