Desperado Celebrates 26 Years of Business!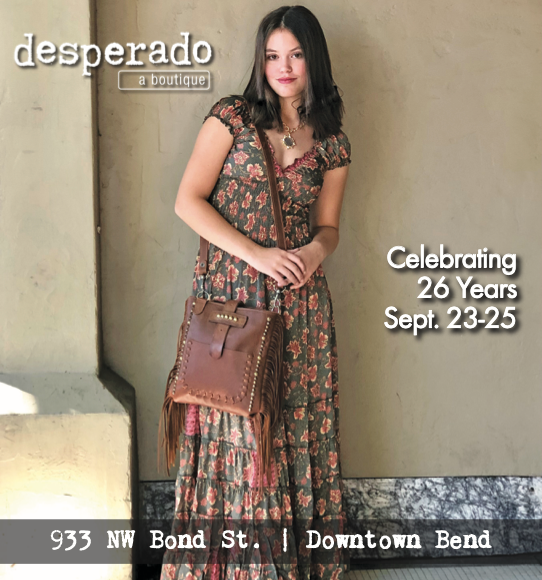 Desperado is pleased to hold its 26th Anniversary party on September 23-25.
We will be hosting reps from some of our favorite shoe lines and will hold Trunk Shows with Casta, Vaddia Sneakers, and Sergio Tomani. All of these amazing footwear companies feature shoes, boots, and sneakers with outstanding workmanship, great design, and unbeatable comfort! We'll be giving away a pair of shoes too… so don't miss out on a chance to enter our 26th Anniversary Giveaway!
We will also have specially curated jewelry by West coast artist Paula Carvalho (see our current blog post!) and Santa Fe, New Mexico-based jewelry co-op Peyote Bird. Peyote Bird represents more than two dozen native and non-native artisans from around the world featuring exquisite sterling silver and turquoise pieces.
Libations & Live music from Bend-based band 'Honey Don't'. This Americana-inspired music duo will play at our kickoff party on Friday night from 5-8. Trunk Shows will run through Sunday. Don't miss out on our giveaways too!
Friday, Sept. 23 – Sept. 25 at Desperado Boutique in Downtown Bend!

____________________________________________________________________________________________________________________________________________________

Desperado Celebrates 25th Anniversary This Month
by Ronni Wilde/CBN Reporter
Desperado, a bohemian-inspired boutique with western flair in downtown Bend, is celebrating its 25th anniversary September 17-18. Although the details of the party are still being worked out as COVID considerations fluctuate, the event will include live music outside, a clothing and jewelry trunk show, and food and drinks.
"It's hard to plan; we just have to plan the best we can and be flexible. But despite the situation, there will still be a party!" says owner Joanne Sunnarborg enthusiastically. "The good news is we will still be able to do a trunk show with clothing and jewelry, people will just have to wear masks. The music will be outside, featuring Honey Don't, in a parking spot with a canopy. The tricky part will be the food and alcohol. We can't have a bunch of people in the store milling around, but people can take their drinks outside."
Sunnarborg started Desperado in Portland's historic Pearl District as a high-end western lifestyle store carrying everything from custom boots to handmade rugs. "I was in the insurance business before, but I've always loved fashion and wanted to do something different, she says. In 2007, Sunnarborg moved her business to Bend's Old Mill District, which was the shop's home for nearly 13 years. In late summer 2020, Desperado was moved to its current home in downtown Bend at 933 NW Bond Street. The shop carries a variety of women's clothing, footwear and accessories, as well as gifts for women, men, kids, and babies at a broad price point. Recognized for excellent customer service and a large selection of custom boots and glamorous apparel, brands featured at Desperado include Johnny Was, JW LA, Biya, Old Gringo, Liberty Black Boots, XCVI, Double D, PJ Salvage, Söfft, denim by Driftwood, Dear John, Stonefield, and others.
Rebecca Meade, head of marketing and advertising for Desperado, says that since the store started out as a high-end western store, they are tying that into the anniversary celebration. "We are bringing in Double D, which is like the Mercedes of western wear," Meade explains. "Joanne has carried this line for 25 years. It's like going back to our roots. Our clothing is a lot less western than it used to be." She adds, "For our show, there will also be a custom bootmaker, and we will showcase several jewelry lines that are handmade in America with sterling silver and turquoise."
Sunnarborg says that her passion for fashion is what has kept her going all these years and is what has helped her overcome the challenges along the way. "For 25 years, I can't say I've loved everything I've done every single minute of every day. But I really like what I do, and most times I love it. If I didn't, I'm not sure I'd be so tenacious to overcome the challenges." Among the big hurdles, she says, are the economic upheavals over the years, whether due to recession or now COVID. "Those are the biggest challenges. I, like restaurants, never make up lost revenue. When you lose revenue over months or years, you never make that up. You don't double business when you open back up." Sunnarborg says that she did not go into debt with COVID, and at this point, she just hopes to get back to "normal" at some point. "During the 2008 recession; I had two stores when that one went down. I had to close one store and put my ego aside."
Her goal moving forward, Sunnarborg says, is to stay relevant in fashion, and her business philosophy is to not make decisions based on fear or ego. "I've never made a good decision if I made it based on ego or fear. Ego happens to me all the time because I go to an apparel show and I see all this fabulous stuff and think, 'I have to have that.' Then I get back to Bend, which is casual, and wonder what I was thinking," she says with a laugh. "As for fear, you have to take risks. Coming back from COVID, as a business owner, if you didn't have any inventory, you couldn't have a business. So, you just ordered inventory and kept your fingers crossed."
Despite the challenges, Sunnarborg says that her biggest triumph is that 25 years in, she still loves what she does, and is proud to have achieved 25 years of brick-and-mortar success. "This is especially true with the internet evolution and Amazon as a way to shop. That's a big triumph to be here after 25 years with a brick-and-mortar store." She adds, "Why I'm still in business would really come down to the fact that I've been lucky in my 25 years to have great employees, and that is huge. It's huger than anything I've done. They provide great service, and that's why customers are attracted to the store and keep coming back." She continues, "It's all about great service, and they do that. The best compliment I can have is when someone thinks one of my employees owns the store."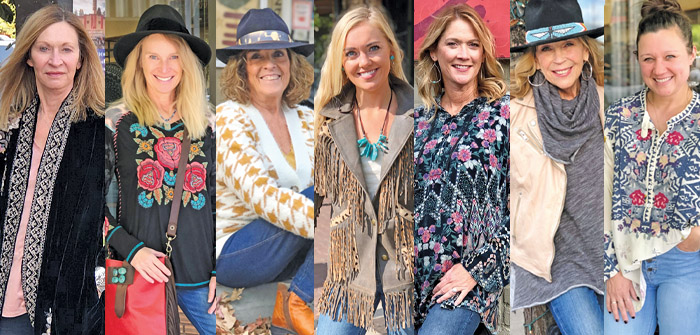 (L-R) Joanne Sunnarborg, owner of Desperado; Rebecca Meade, Desperado's head of marketing and advertising, wearing Double D and Desperado staff members Mikki Krohn wearing a Greeley Hat Works design; Olivia Harms wearing Double D Ranch and a Peyote Bird Necklace; Julie Knirk wearing Johnny Was; Leslye Venturi wearing a Greeley Hat Works custom hat and Mauritius Leather jacket; and Nicole Kladny  wearing Johnny Was
Bend Magazine Profiles Desperado's Own Olivia Harms | Summer Edition 14 of Our Favorite Shops & Boutiques in Bend, Oregon
When it comes to shopping, there's no better place to spend your time and money than at a small business or boutique. These shops often make their own wares or source small batches of products from other brands or artisans, resulting in unique looks and objects with plenty of personality.
This rings true in fashion, kitchen goods, home decor and art, so whether you're looking to treat yourself or give a thoughtful gift, consider shopping local first. Here are a few Bend-area shops and boutiques we love!
Nearly 24 years ago, Desperado began in Portland's historic Pearl District as a high-end Western Lifestyle store carrying everything from custom boots to handmade rugs. In 2007, owner and proprietor Joanne Sunnarborg moved her business to Bend's Old Mill District and made the move to downtown last year. They are well known for their vast array of women's and men's clothing, accessories, gifts and incredible selection of custom boots. Visit their website to start shopping and to check out their "Latest Looks" page that will outline their most recent acquisitions and how you should wear them!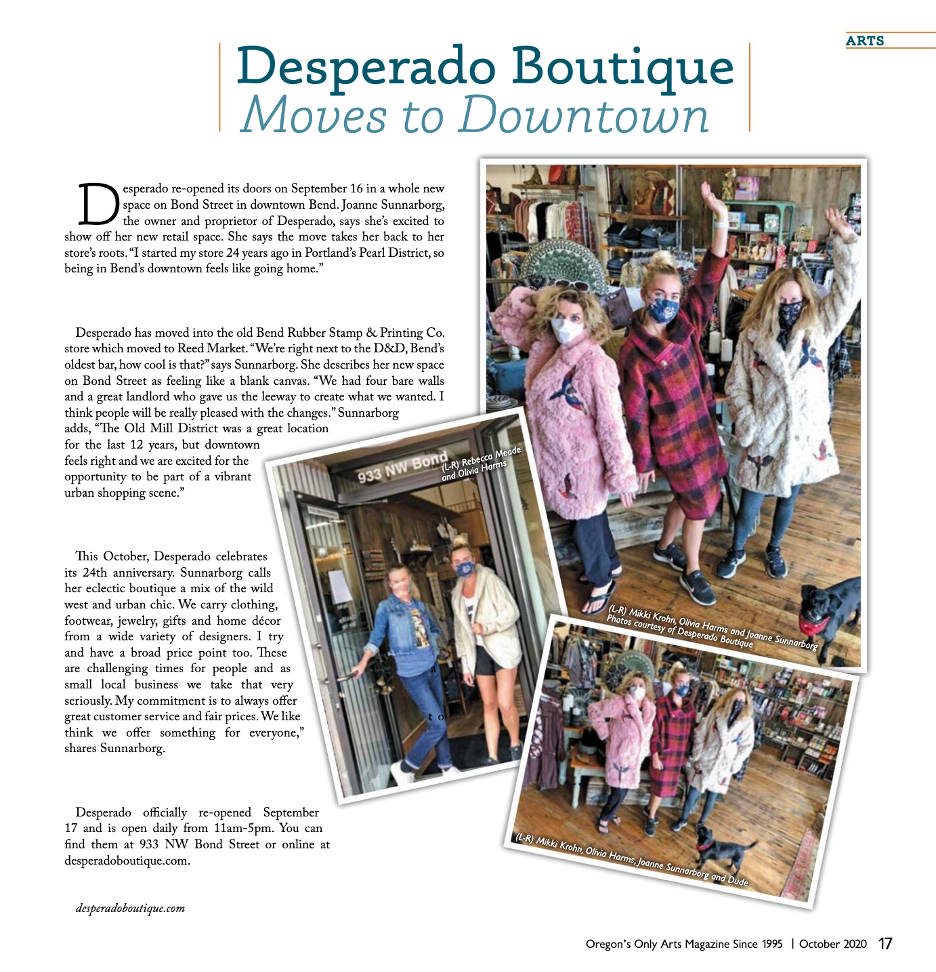 Past Headlines… scroll down and see what Desperado has been up to this last year!!!




Risks & Benefits of Entrepreneurship —
The Desperado Story
(Joanne Sunnarborg | Photos by Kelsey Swenson and Brody Swisher)
It's no secret that business, and especially entrepreneurship, is all about taking risks.
Desperado boutique owner Joanne Sunnarborg faced a decisive turning point in her life at age 37. She could continue working in the insurance business and face a possible dead end in her career, or take a risk and open her own boutique in Portland's Pearl District. Like many entrepreneurs, she chose to take the risk.
In the nearly 23 years since then, Sunnarborg has owned and operated Desperado, which she moved from Portland to Bend's Old Mill District 12 years ago. The store has a "boho," western-style fashion theme with walls of shoes (formerly named Shoes &…) and home decor.
Sunnarborg's advice for women who want to start a business is to "start out by doing your homework," and "have a good business plan." In addition to these fundamentals, she says to be "optimistic," to "not be afraid. You've got to be confident." For Sunnarborg, taking the risks that come with owning a business breed success.
With risk, however, also comes the possibility of failure. "It all comes down to what you're passionate about, that gets you through the challenging times." Sunnarborg says fashion has always been important to her since the first grade, when she started getting nominations for "most fashionable" or "most stylish." She never knew her passion would turn into something she could share with others through her own business. Now, her mission is to "provide fashionable, comfortable clothing to my customers, as well as a quality customer experience."
Gearing products toward your customers and responding to them is what makes a business successful, she says. "You've got to be light on your feet in a changing world, and to do that you have to put your ego aside." Especially in the retail industry, she says, it's important to offer unique products not available online along with good customer service and relationships.
In terms of the bigger picture, she says, "When I take care of customers, it really means taking care of the community." She believes small, locally-owned businesses are the ones that give back the most to the community. Desperado has contributed across the board, to local schools, the High Desert Museum, cancer research and BendFilm.
Sunnarborg must make continual changes to respond to changes in the retail industry and customer preferences. These are challenging and involve the ongoing risk of making mistakes, but she has found success by adopting this mindset. Beyond her personal accomplishments, the community has benefitted from her belief in what she does. Fashion is only part of the Desperado story.

________________________________
desperado is guest on
House Talk with Karen Malanga…How to tie scarves made easy & fun. 
desperado is guest on
House Talk with Karen Malanga…
Don't miss the Johnny Was Clothing Trunk Show at desperado boutique in the Old Mill District of Bend, Oregon Friday, July 20 – Sunday, July 22, 2018!
Listen in as Karen and Rebecca share a preview of the event!

desperado is guest on
House Talk with Karen Malanga…

Don't miss the Jafa Footwear & Dresses by Viereck Trunk Show @desperado.  Enjoy this edition of House Talk where Karen & Rebecca discuss the event.
Minnetonka Debuts in Vogue Magazine…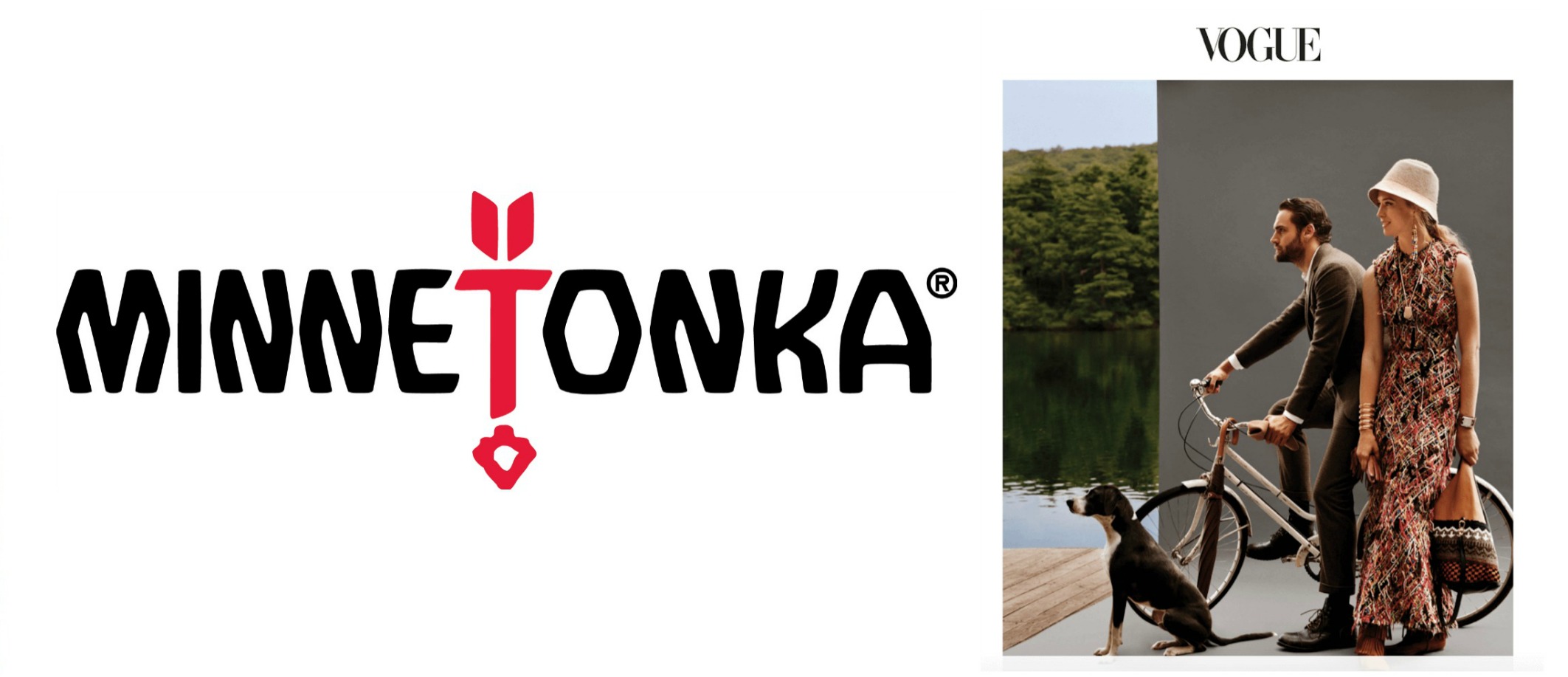 Available at desperado with shoes &… Call to reserve your pair today and we'll happily tell you about all our Minnetonka offerings at the store: 541.749.9980.
______________________________________________________________________________________________________________________________________________________________________________________________________________________
Sneak Peek at Summer BFQ…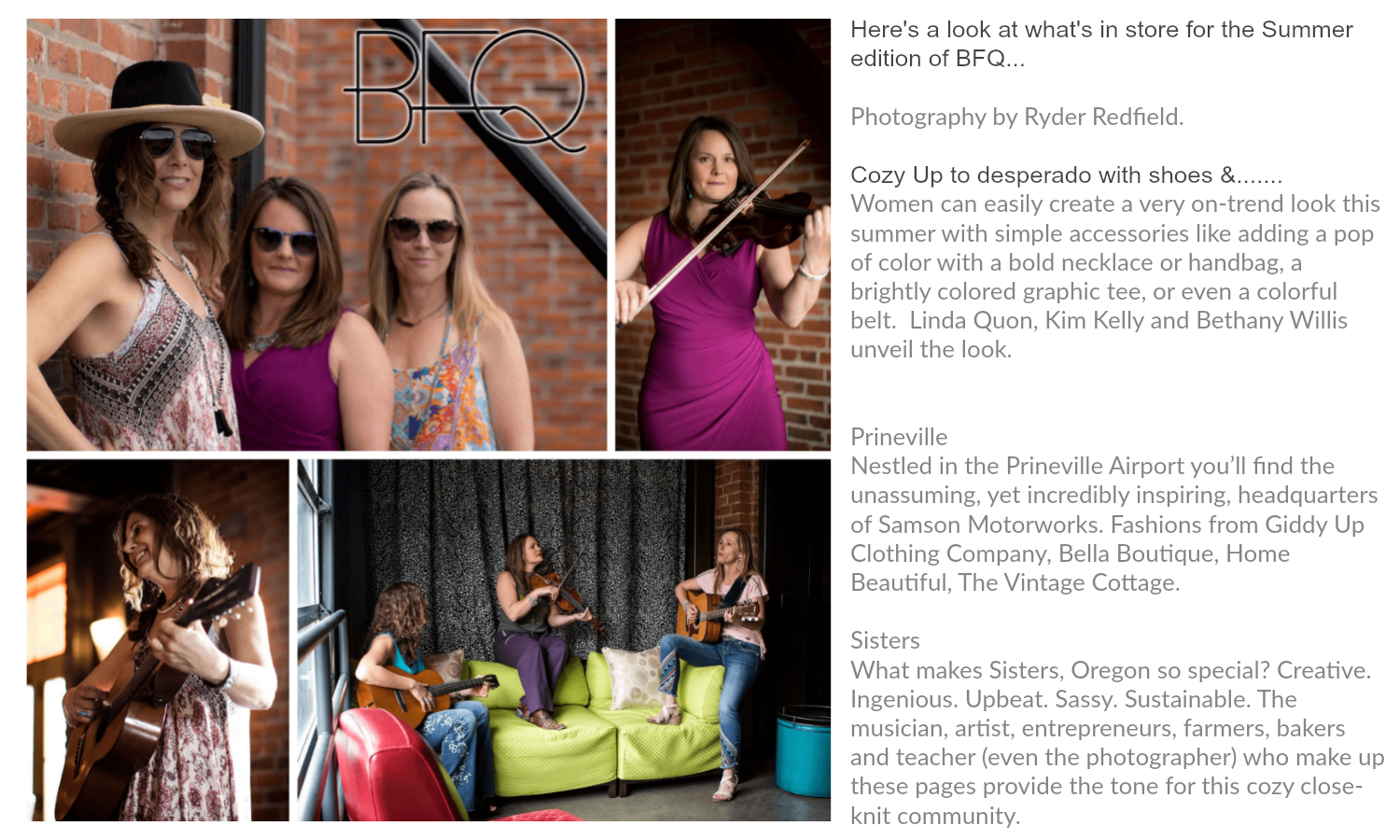 Making Headlines in BFQ Spring….
Plus…BFQ's Wedding Magazine featuring our own Haleigh Newbeck!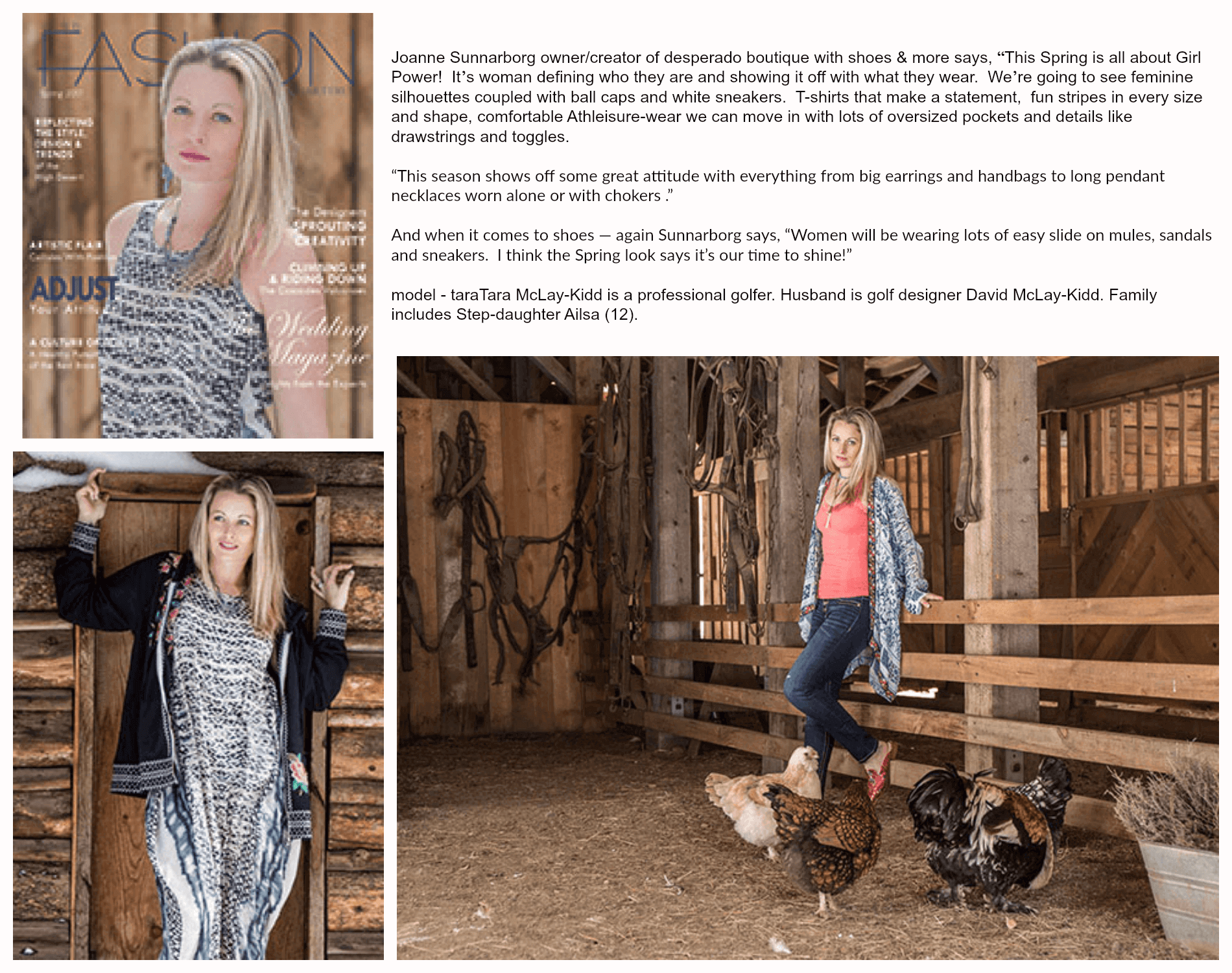 ________________________________________________________________________________________________________________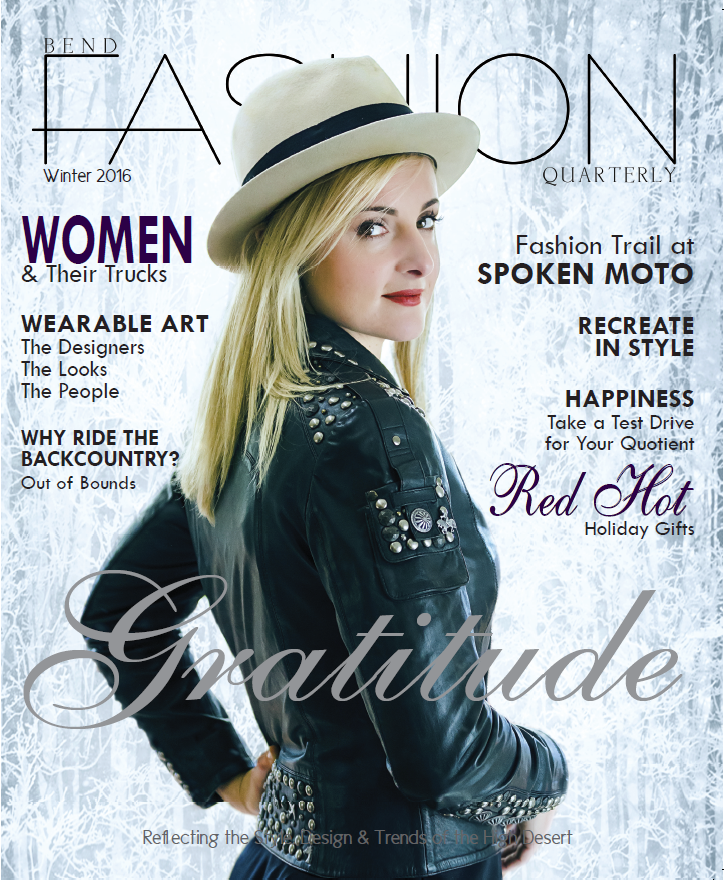 Making Headlines in BFQ Winter….
Bend's newest fashion magazine, Bend Fashion Quarterly, features desperado and shoes &…  in its winter edition.  And if you look closely you'll see desperado's own – Rebecca Meade and her husband Eric modeling some of our great winter looks from the store.
Eric & Rebecca opened up their home near Tumalo for the shoot and dogs – Ricky & Luna were happy to photo-bomb where ever they could.
When Eric isn't modeling (ha! not in his comfort zone) he is a private business consultant at Purposeful Consulting  and an avid mountain biker.  Rebecca loves her job at desperado and is also in charge of the store's website and marketing.
REPORTER PAMELA HULSE ANDREWS, FOUNDER BFQ
PHOTOGRAPHY BY MARIA BAY
HAIR & MAKEUP BY JINNY MILLS / BAMBOO SALON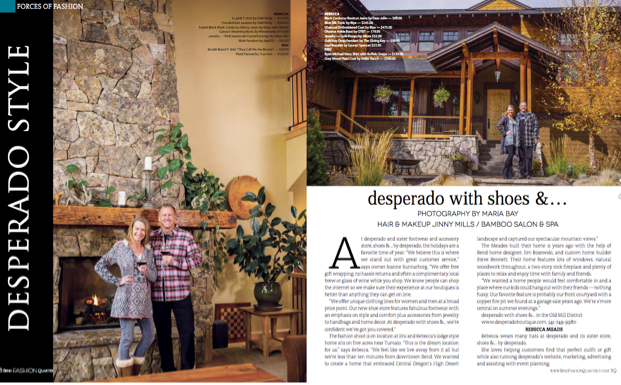 Rebecca is wearing:
Hooded sweater by Odd Molly $359
Corduroy skinnies by Dear John $89
Shearling Boots by Minnetonka $119
Eric is wearing:
Flannel by True Grit $129.95
Wool coat by Miller Ranch $349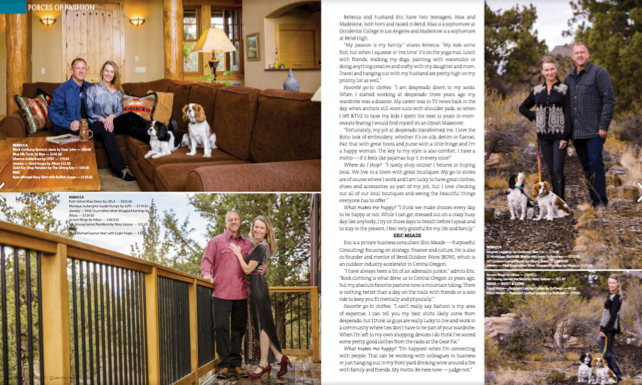 Rebecca's outfits:
Blue Silk Tunic by Biya $245
Patti Velvet Dress by JWLA $355
Blouse by 3J Workshop $215
Eric's outfits:
Men's Shirts by Ryan Michael $139.95
Ricky & Luna:
Dog Leashes by Ruffwear  $79.95
Dog Collars by Ruffwear $49.95
---
Fall BFQ….
A Biya dress from desperado makes the cover of Oregon's newest magazine to hit the fashion world.
Bend Fashion Quarterly, aka – BFQ is taking Central Oregon by storm as this new quarterly publication features local boutiques, people, and lifestyle stories from Bend & beyond.
See our spread in this summer's edition!!!
We went on location at the Old Mill District's newest and hottest Wine Bar & Tasting Room – VIA PIANO – with Sandy and Daniel. Sandy is a doctor of chiropractic medicine and owner of Bend NSA Chiropractic, and Daniel owns Einstein Plumbing.
Sandy is wearing a Biya dress by Johnny Was, Evangelina Boots by Old Gringo (on website), & a vintage Squash Blossom necklace.
Daniel is wearing a Head 'n Home Hat, Ryan Michael shifts and Timberland & DKODE shoes.
Photography by Maria Bay
Story by Pamela Hulse Andrews