by Ronni Wilde/CBN Reporter
Desperado, a bohemian-inspired boutique with western flair in downtown Bend, is celebrating its 25th anniversary September 17-18. Although the details of the party are still being worked out as COVID considerations fluctuate, the event will include live music outside, a clothing and jewelry trunk show, and food and drinks.
"It's hard to plan; we just have to plan the best we can and be flexible. But despite the situation, there will still be a party!" says owner Joanne Sunnarborg enthusiastically. "The good news is we will still be able to do a trunk show with clothing and jewelry, people will just have to wear masks. The music will be outside, featuring Honey Don't, in a parking spot with a canopy. The tricky part will be the food and alcohol. We can't have a bunch of people in the store milling around, but people can take their drinks outside."
Sunnarborg started Desperado in Portland's historic Pearl District as a high-end western lifestyle store carrying everything from custom boots to handmade rugs. "I was in the insurance business before, but I've always loved fashion and wanted to do something different, she says. In 2007, Sunnarborg moved her business to Bend's Old Mill District, which was the shop's home for nearly 13 years. In late summer 2020, Desperado was moved to its current home in downtown Bend at 933 NW Bond Street. The shop carries a variety of women's clothing, footwear and accessories, as well as gifts for women, men, kids, and babies at a broad price point. Recognized for excellent customer service and a large selection of custom boots and glamorous apparel, brands featured at Desperado include Johnny Was, JW LA, Biya, Old Gringo, Liberty Black Boots, XCVI, Double D, PJ Salvage, Söfft, denim by Driftwood, Dear John, Stonefield, and others.
Rebecca Meade, head of marketing and advertising for Desperado, says that since the store started out as a high-end western store, they are tying that into the anniversary celebration. "We are bringing in Double D, which is like the Mercedes of western wear," Meade explains. "Joanne has carried this line for 25 years. It's like going back to our roots. Our clothing is a lot less western than it used to be." She adds, "For our show, there will also be a custom bootmaker, and we will showcase several jewelry lines that are handmade in America with sterling silver and turquoise."
Sunnarborg says that her passion for fashion is what has kept her going all these years and is what has helped her overcome the challenges along the way. "For 25 years, I can't say I've loved everything I've done every single minute of every day. But I really like what I do, and most times I love it. If I didn't, I'm not sure I'd be so tenacious to overcome the challenges." Among the big hurdles, she says, are the economic upheavals over the years, whether due to recession or now COVID. "Those are the biggest challenges. I, like restaurants, never make up lost revenue. When you lose revenue over months or years, you never make that up. You don't double business when you open back up." Sunnarborg says that she did not go into debt with COVID, and at this point, she just hopes to get back to "normal" at some point. "During the 2008 recession; I had two stores when that one went down. I had to close one store and put my ego aside."
Her goal moving forward, Sunnarborg says, is to stay relevant in fashion, and her business philosophy is to not make decisions based on fear or ego. "I've never made a good decision if I made it based on ego or fear. Ego happens to me all the time because I go to an apparel show and I see all this fabulous stuff and think, 'I have to have that.' Then I get back to Bend, which is casual, and wonder what I was thinking," she says with a laugh. "As for fear, you have to take risks. Coming back from COVID, as a business owner, if you didn't have any inventory, you couldn't have a business. So, you just ordered inventory and kept your fingers crossed."
Despite the challenges, Sunnarborg says that her biggest triumph is that 25 years in, she still loves what she does, and is proud to have achieved 25 years of brick-and-mortar success. "This is especially true with the internet evolution and Amazon as a way to shop. That's a big triumph to be here after 25 years with a brick-and-mortar store." She adds, "Why I'm still in business would really come down to the fact that I've been lucky in my 25 years to have great employees, and that is huge. It's huger than anything I've done. They provide great service, and that's why customers are attracted to the store and keep coming back." She continues, "It's all about great service, and they do that. The best compliment I can have is when someone thinks one of my employees owns the store."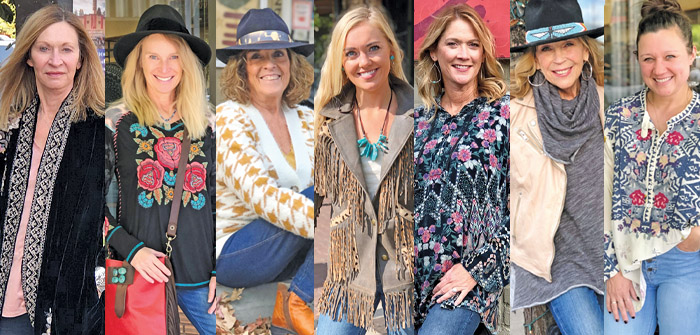 (L-R) Joanne Sunnarborg, owner of Desperado; Rebecca Meade, Desperado's head of marketing and advertising, wearing Double D and Desperado staff members Mikki Krohn wearing a Greeley Hat Works design; Olivia Harms wearing Double D Ranch and a Peyote Bird Necklace; Julie Knirk wearing Johnny Was; Leslye Venturi wearing a Greeley Hat Works custom hat and Mauritius Leather jacket; and Nicole Kladny  wearing Johnny Was