Sneak Peek at Summer BFQ…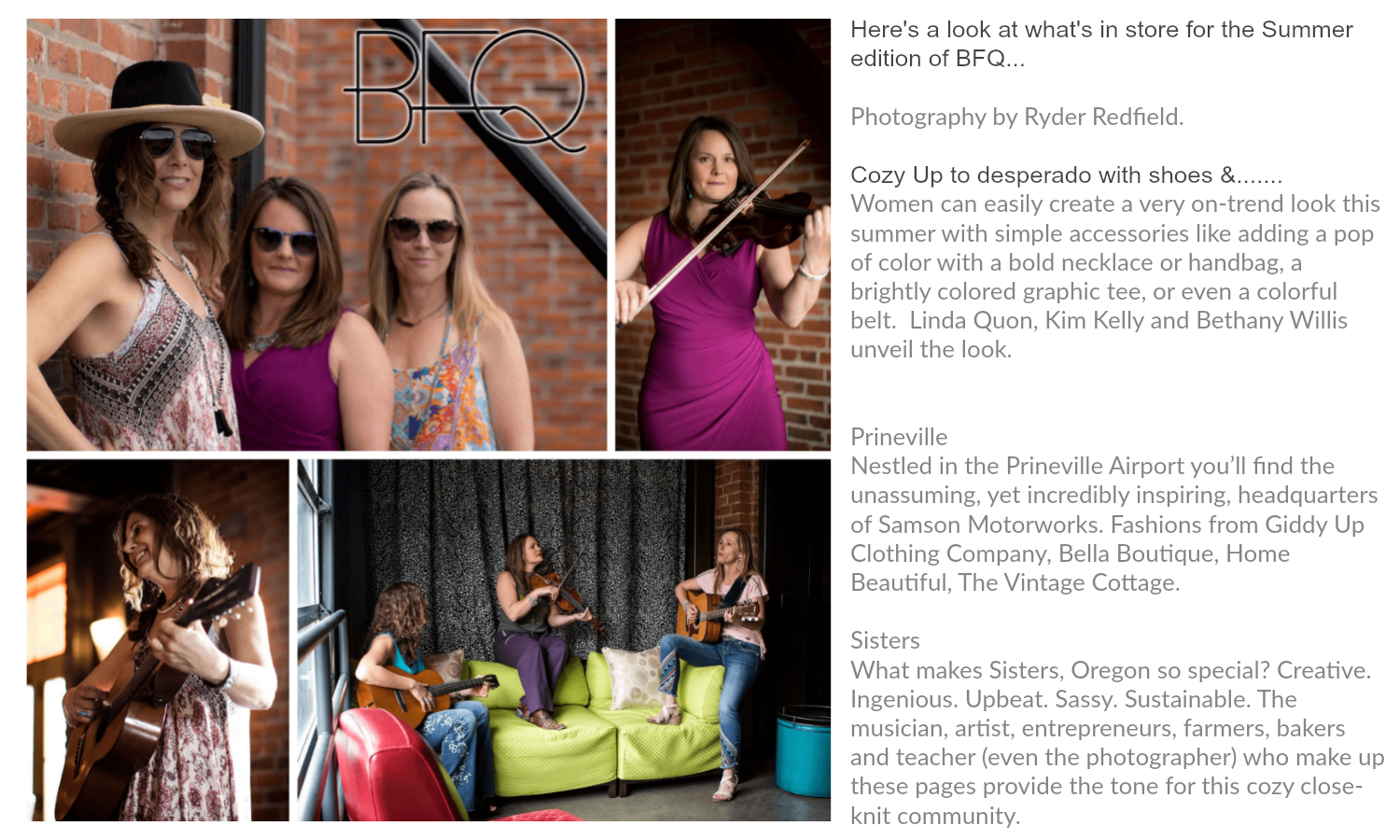 Making Headlines in BFQ Spring….
Plus…BFQ's Wedding Magazine featuring our own Haleigh Newbeck!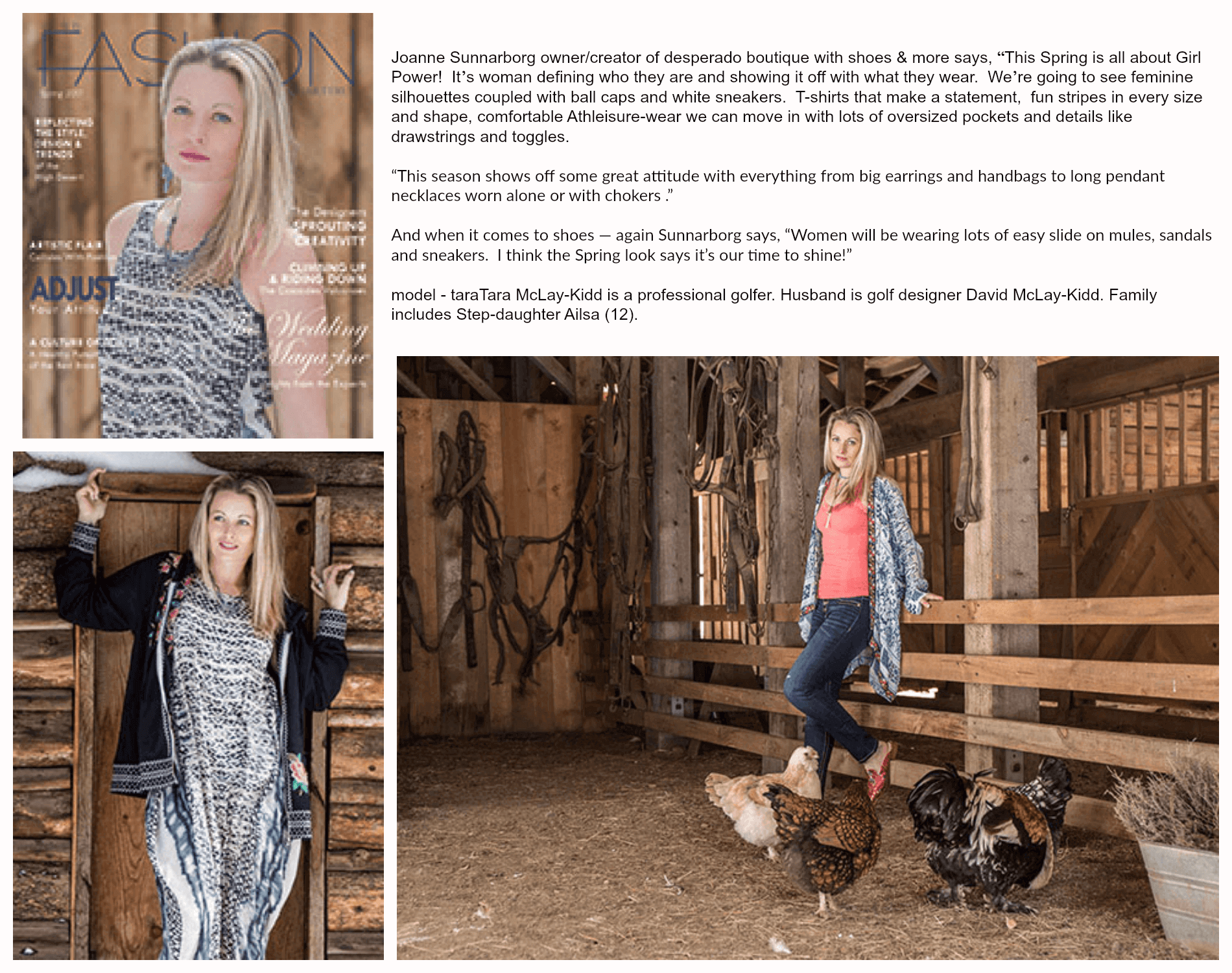 ________________________________________________________________________________________________________________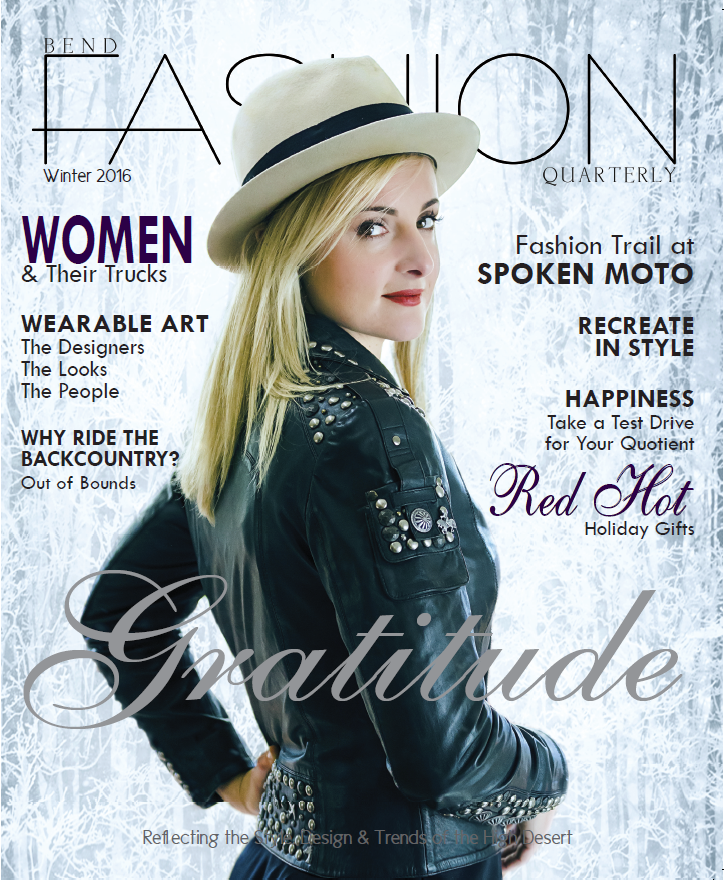 Making Headlines in BFQ Winter….
Bend's newest fashion magazine, Bend Fashion Quarterly, features desperado and shoes &…  in its winter edition.  And if you look closely you'll see desperado's own – Rebecca Meade and her husband Eric modeling some of our great winter looks from the store.
Eric & Rebecca opened up their home near Tumalo for the shoot and dogs – Ricky & Luna were happy to photo-bomb where ever they could.
When Eric isn't modeling (ha! not in his comfort zone) he is a private business consultant at Purposeful Consulting  and an avid mountain biker.  Rebecca loves her job at desperado and is also in charge of the store's website and marketing.
REPORTER PAMELA HULSE ANDREWS, FOUNDER BFQ
PHOTOGRAPHY BY MARIA BAY
HAIR & MAKEUP BY JINNY MILLS / BAMBOO SALON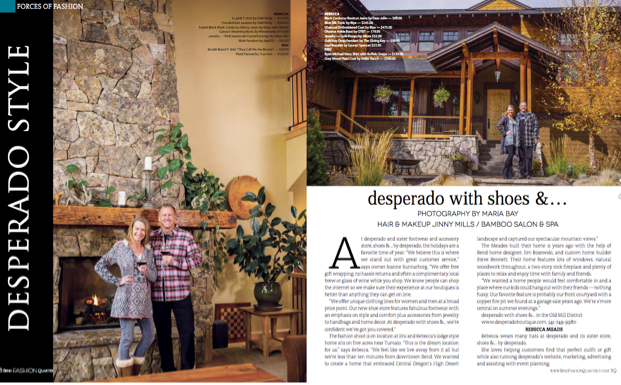 Rebecca is wearing:
Hooded sweater by Odd Molly $359
Corduroy skinnies by Dear John $89
Shearling Boots by Minnetonka $119
Eric is wearing:
Flannel by True Grit $129.95
Wool coat by Miller Ranch $349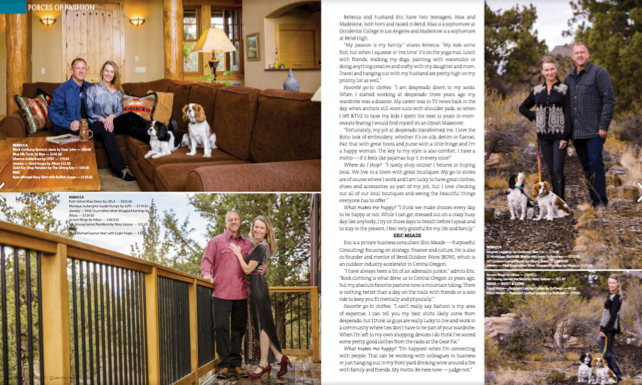 Rebecca's outfits:
Blue Silk Tunic by Biya $245
Patti Velvet Dress by JWLA $355
Blouse by 3J Workshop $215
Eric's outfits:
Men's Shirts by Ryan Michael $139.95
Ricky & Luna:
Dog Leashes by Ruffwear  $79.95
Dog Collars by Ruffwear $49.95
---
Fall BFQ….
A Biya dress from desperado makes the cover of Oregon's newest magazine to hit the fashion world.
Bend Fashion Quarterly, aka – BFQ is taking Central Oregon by storm as this new quarterly publication features local boutiques, people, and lifestyle stories from Bend & beyond.
See our spread in this summer's edition!!!
We went on location at the Old Mill District's newest and hottest Wine Bar & Tasting Room – VIA PIANO – with Sandy and Daniel. Sandy is a doctor of chiropractic medicine and owner of Bend NSA Chiropractic, and Daniel owns Einstein Plumbing.
Sandy is wearing a Biya dress by Johnny Was, Evangelina Boots by Old Gringo (on website), & a vintage Squash Blossom necklace.
Daniel is wearing a Head 'n Home Hat, Ryan Michael shifts and Timberland & DKODE shoes.
Photography by Maria Bay
Story by Pamela Hulse Andrews