Unleash your Boho Style this weekend with PNW Silversmith Amy Leistiko of Silver.Stone.Boheme!  Kickoff Party begins this Friday, July 1 during 1st Friday ArtWalk & Saturday from 11-4!!!  Don't miss our best event of the Summer!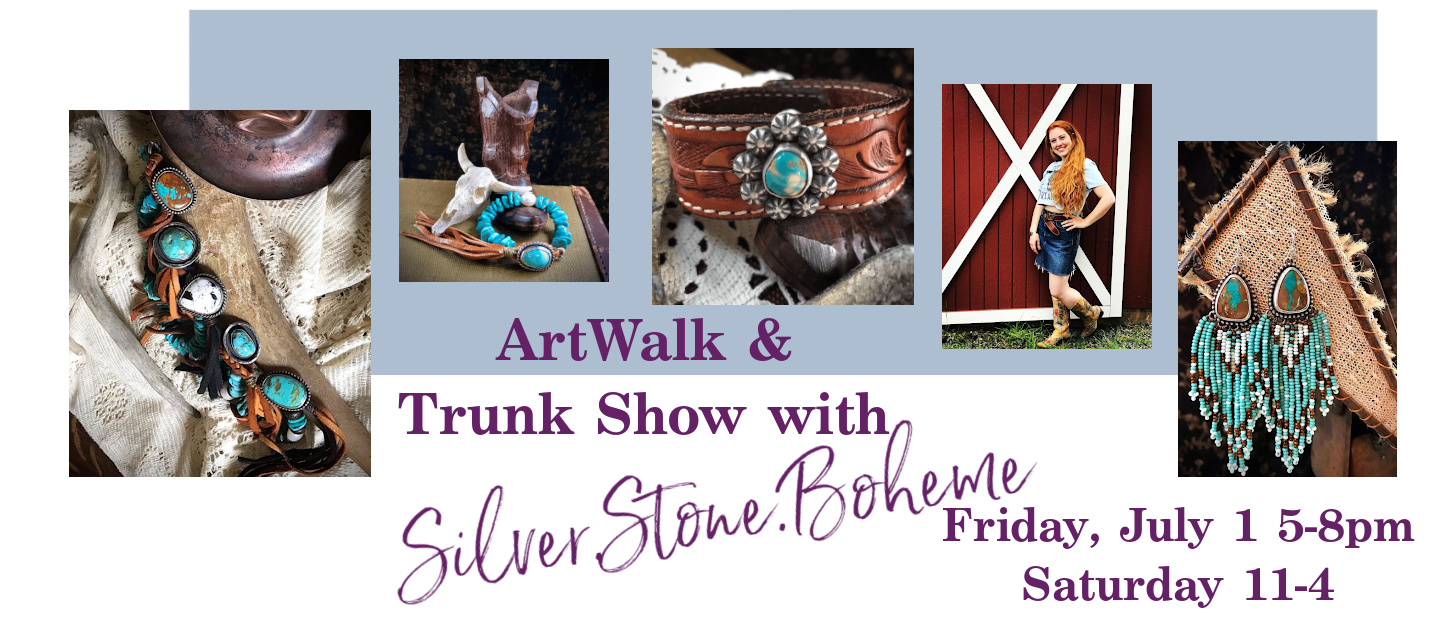 We caught up with Amy Leistiko recently and asked her to reflect on her work.  Amy shared this with us, "I've always had a love of creating. I've done a bit of everything on my way to discovering silversmithing. I started out sewing and doing beadwork as a kid and used to be a prolific knitter. But when I picked up my first "silly little much too small hand-held" torch, something about silversmithing just locked into place and it really felt almost like I'd done it before and I was immediately pulled towards it.  Amy learned her art by herself watching YouTube videos, reading forums, asking questions, and largely just following her gut instincts.
She shares that what also fuels her creative spirit is the energy she feels in the materials she uses!  "I love stones and the different healing energies they have. Similar to essential oils and plants. I actually didn't start silversmithing with the intention of primarily working with turquoise, but I love its energy!"   Amy also loves the huge variety of different stones that come from the individual mines around North America and the fact that no two stones look the same.  Amy shares, "I only use American turquoise, because I love that it is near to us and that feels good to me. And I only buy from lapidary artists that I trust and know."  She adds, "All my cabochons are natural stones because I prefer the way they feel and that they take on more character with time and age with their owner."
Amy calls Oregon home and loves living in the Pacific Northwest.  "I've been creating and living with my little beagle in my bumper pull trailer that I am renovating into a tiny home on wheels. It is tucked up against the woods with a seasonal creek that runs behind me that I can hear from my workbench window when it is open. That is if my beagle isn't snoring too loudly on the couch," she adds with a laugh.
"When I'm not smithing or working, I hike. I hike a lot, and paddleboard in the summer. And cross country ski in the winter. I try to be outside as much as possible."
Amy tells us she truly loves to create jewelry and if she hasn't been to her workbench in a few days she misses it like an old friend. "I would say honestly what inspires me are the stones themselves. I can't create pieces with stones I don't like or feel drawn to. I've tried with special requests before and I just can't do it. Most smithing mornings I sit with my stones and rummage thru them while I sip coffee. Then go on a hike with my beagle and think about what I want them to become."
We think you'll love Amy Leistiko as much as we do so please come down and say hello and see what beautiful work Amy has today!