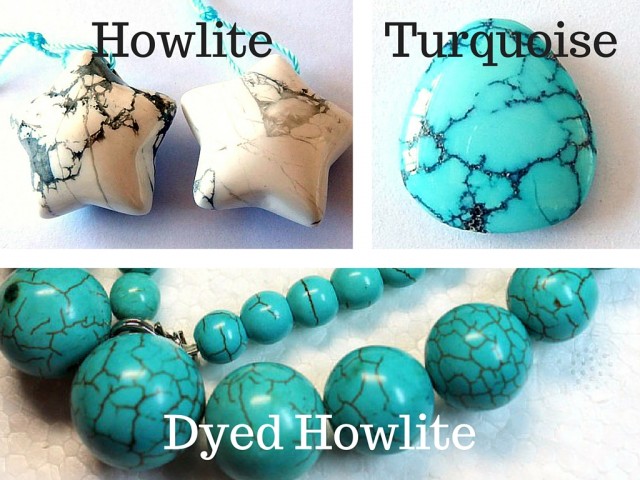 It's no secret that people enjoy the finer things in life; but sometimes the finer things in life come at an all too high cost. High-end items like jewelry are commonly being copied and made from cheaper materials, yet sold at high-end prices. Unfortunately, without the right expertise, consumers can be tricked into buying stones and jewels different from what we intend.
Fake turquoise makes up about 90% of the turquoise market today. Real turquoise is a mineral found near deposits of copper. Turquoise also requires the presence of three other materials: aluminum, phosphorus, and water. The mix of these minerals make each piece of turquoise incredibly unique. Turquoise has a rare distribution of green and blue color that other mined stone simply can't recreate. However, other stones, like howlite, can be easily manipulated and dyed to achieve an almost identical look to turquoise, at a cheaper cost.
Howlite is a borate mineral found in evaporite deposits. Like turquoise, howlite itself is a beautiful stone that can be sold in its natural state. Howlite can be found under the names of: white turquoise, white buffalo turquoise, or white buffalo stone. However it can also be altered to imitate other stones like turquoise. Because of its spongy texture, howlite is easily dyed and the dye then sinks into the pores of the mineral giving it a look very similar to real turquoise.
When consumers look at the beautiful turquoise stone, there are three things to keep in mind to be sure that the turquoise is the real thing:
Appearance: Every piece of real turquoise will have its own, unique look. If stones are identical, they may not be real.
Color stability: Natural turquoise will be colored throughout from its creation in the earth. The color will not rub off.
Price: Real turquoise is going to be more expensive. If the price looks too good to be true, it probably is.
Here are a couple tricks to find out if the turquoise is real.
The fingernail test. The fingernail test is simply running your fingernail along the surface of the stone. If your fingernail gets caught where the veins and splotches of the stone are, chances are the stone is real. If your fingernail can run smoothly along the stone, chances are you have manipulated howlite.
The scratch test: Howlite is a lot lighter and softer than turquoise. The scratch test will test the hardness of the stone. If the stone scratches easy, chances are you have piece of howlite. If the stone is difficult to scratch, odds are higher that it's turquoise. Be careful when using this technique as it does involve scratching up your stone.
The only way to be certain that you are buying real turquoise is to know where it came from. There are many vendors who sell fake turquoise labeled as the real thing. You should always buy turquoise from a reputable source with expertise and knowledge of the stone's source. Here at Desperado Boutique we highly encourage that when looking for your new jewelry you shop local and don't be afraid to ask questions. We love to talk about where we get our products, as everything we sell comes with a story.