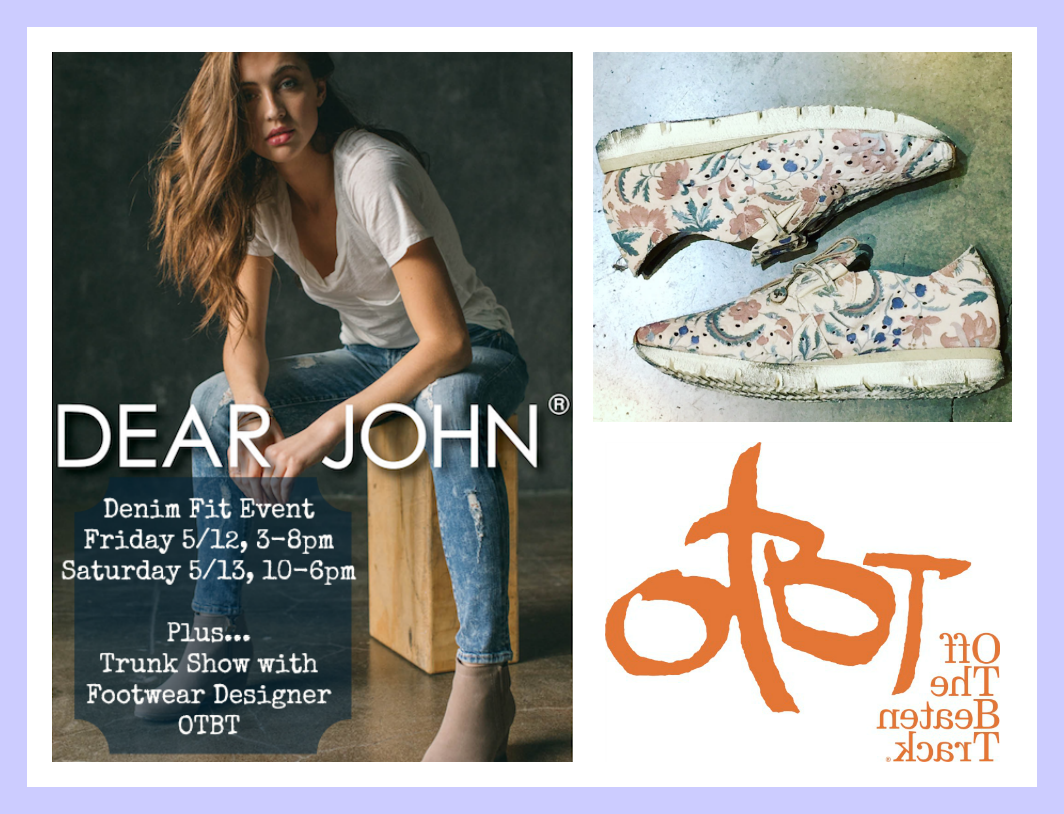 Desperado's 3rd Annual Denim Event & OTBT Trunk Show
Friday, May 12th , 3:00pm-8:00pm
Saturday, May 13th 10:00am-6:00pm
Second only to finding the perfect bathing suit is the seemingly never-ending search for the perfect pair of great fitting jeans. The choices are many – from low-rise to high-rise, skinny to boot cut, to what makes a great color (better known in denim dialogue as 'wash').   The good news is you don't need to be a denim expert you just need to know where to find one. Desperado is doing that for you. On Friday & Saturday, May 12-13, desperado boutique with shoes &… in the Old Mill District will hold its 3rd Annual Denim Fit Event with Dear John Denim Expert Kaitlin Moor.
This year we're adding something new…a Trunk Show with one of our favorite footwear lines – 'Off the Beaten Track'!  Because nothing compliments a great pair of jeans like a great pair of shoes.  Chris Schermerhorn of OTBT will be with us at shoes &… to launch this fabulous footwear company's spring line.

We caught up with Denim fit expert Kaitlin Moor who resides in Los Angeles and represents one of the America's leading jean fashion lines: Dear John.
Kaitlin, what is the first thing a woman should think about when investing in a pair of jeans? "Fit, Fit, Fit!" says Kaitlin.
Is there a style for everyone? Some rules of thumb when it comes to body types and the best style of denim to fit a woman's figure? "No", Kaitlin replies, "There really is not a style for everyone as every body type is different… but as a general rule of thumb, most women can't go wrong with a good mid-rise bootcut or a mid-rise skinny."
What 'new trends' or 'must haves' are we seeing in jeans this season? "A lot of denim brands are bringing back the "Flare Jean" in various ways… Everything from the 70s Hippie Flare to a more subtle Trouser flare. We're also seeing super fun rough-cut hems, distressed denim with fabric underlays, and jeans you can turn up and create a cute cuff to show off a great pair of shoes."
Can the right pair of shoes or heel height make a difference? "Definitely YES… depending on the length and the size of the leg opening."
How much do we really need to spend to get a great pair of jeans? "I would say anything in between $80-$120. The more "expensive" brands are tacking on a lot of costs associated with branding and where it's made, but a lot of those costs really have nothing to do with how good the actual product is," says Kaitlin.
What advice to you give women when they seek help in finding a new pair of jeans? Try on as many brands as you can and find a brand that fits you well. Every brand tries to cater to as many body types as possible, but you will find some brands really fit you better then others."
This will be Kaitlin's third denim fit event at desperado.  We're continuing this tradition because Dear John has been such a great fit and affordable denim for our customers.  We hope to see you there…because remember we know how to throw a party!!!
desperado with shoes &…'s Dear John Denim Fit Event & OTBT Trunk Show takes place Friday, May 12th from 3:00-8:00pm and Saturday, May 13th, 10:00-6:00pm in the Old Mill District.