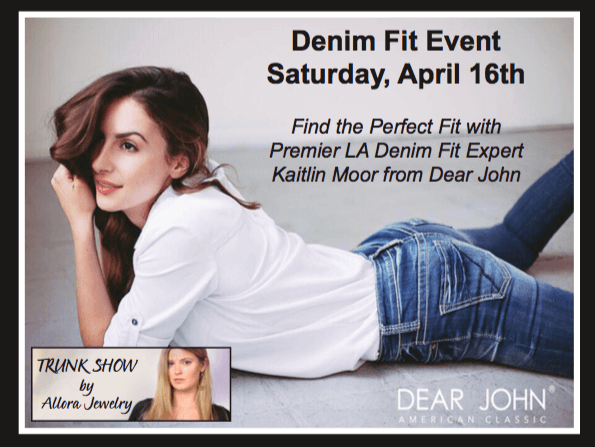 Second only to finding the perfect bathing suit is the seemingly never-ending search for the perfect pair of great fitting jeans. The choices are many – from low-rise to high-rise, flair to boot cut, to what makes a great color (better known in denim dialogue as 'wash'). The good news is you don't need to be a denim expert you just need to know where to find one. Desperado is doing that for you. On Saturday, September 16th from 11:00-7:00pm Desperado Boutique in the Old Mill District will hold its second Denim Fit Event with Dear John Denim Expert Kaitlin Moor. Local jewelry designer Jen Anderson of Allora Jewelry will also be hosting a Trunk Show. Denim fit expert Kaitlin Moor resides in Los Angeles and represents one of the America's leading jean fashion lines: Dear John.
We caught up with Kaitlin recently and picked her brain on what women can expect to learn at Desperado's Denim Fit Event.
Kaitlin, what is the first thing a woman should think about when investing in a pair of jeans? Fit, Fit, Fit…
Is there a style for everyone? Some rules of thumb when it comes to body types and the best style of denim to fit a woman's figure? No, there really is not a style for everyone as every body type is different… but as a general rule of thumb, most women can't go wrong with a good mid-rise bootcut or a mid-rise skinny.
What 'new trends' or 'must haves' are we seeing in jeans this season? A lot of denim brands are bringing back the "Flare Jean" in various ways… Everything from the 70s Hippie Flare to a more subtle Trouser flare.
Can the right pair of shoes or heel height make a difference? Definitely YES… (Depending on the length and the size of the leg opening)
How much do we really need to spend to get a great pair of jeans? I would say anything in between $80-$120. Anything over that is usually made in Los Angeles and you are paying a "Premium" because of it… The more "expensive" brands are tacking on a lot of costs associated with branding and where it's made but a lot of those costs really have nothing to do with how good the actual product is.
What advice to you give women when they seek help in finding a new pair of jeans? Try on as many brands as you can and find a brand that fits you well. Every brand tries to cater to as many body types as possible but you will find some brands really fit you better then others.
Desperado's Denim Fit Event takes place Saturday, April 16th from 11:00-7:00pm in the Old Mill District.