Installation by Kimberly Lanahan
It can be difficult to understand another person's experience until you have walked in their shoes.  That's why survivors of domestic violence, and their loved ones created art designed to express what it's like to be a survivor as part of the Domestic Violence Awareness Month Campaign for Bend's Saving Grace.
Throughout October desperado with shoes &… has teamed up with Saving Grace to present "In Their Shoes," an art exhibit highlighting the experiences of domestic violence survivors and their loved ones. For this exhibit, survivors and their supporters decorated footwear to show what it is like to walk in their shoes.
"We hope by displaying this special art exhibit in a public place like our store window we'll get the message out to anybody walking down the street that there is help out there for victims of domestic violence," says Joanne Sunnarborg, owner of Desperado with Shoes &. "These shoes are not only works of art, they tell a story of survival and that's a message we're happy to help share."

Saving Grace offers safety, hope, and healing to survivors of relationship abuse and sexual assault in Central Oregon through its emergency shelter, a 24-hour helpline, emergency transportation, safety planning, support groups, children's advocacy, community education and more.
Learn more at www.saving-grace.org or get help by calling the 24-hour helpline at 541-389-7021.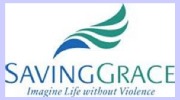 This special art exhibit will be on display at shoes &… in the Old Mill District through the month of October.