It's all in the details when it comes to shopping for jeans, and the divas here at Desperado know just how daunting finding great denim can be! So, we checked in with Dear John Denim Expert Kathi Johnson for her tips to make the task a little easier. Kathi brings 20 years of experience in fashion and is a leading fashionista when it comes to trends, colors, and helping women define who they are with what they wear. Desperado is thrilled to be teaming up with this diva for our Denim Fit Event… here's a few tips to get you started!
Firstly… work with what you got! Kathi emphasizes different styles of jeans will flatter different body types so let us help you. That's why Denim Fit Events are great ways to receive expert help! Let the divas and Denim Fit Experts like Kathi take the fear out of finding the right pair.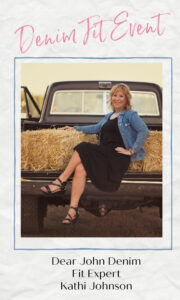 For example, if you've got curves and bootie chances are you're going to rock a bootcut or flare jeans to balance out your sexy proportions. Just like high-waisted jeans may suit those with an apple-shaped flirty figure as they can help create a defined waistline. Like how we're going with this??? There are no bad bodies when you get the right fit!
Number two… when shopping for denim jeans pay attention to the fabric composition. Look for jeans that contain a blend of cotton, spandex, and elastane, as this will offer a comfortable stretch that will contour to your body shape. We think Dear John Denim (Kathi's favorite) and other jean lines we carry at Desperado offer great form-fitting fabric that stand up to days of wear. That's why Kathi says starting out with the right size is so important because no one wants a saggy butt by the end of the day!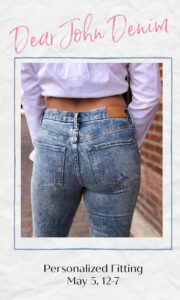 Trois… When trying on jeans, it is also important to pay attention to how they fit around the waist as this can make or break the overall look. Fit Expert Kathi says the waistband should fit snugly around your waist without feeling too tight or digging in. If you find that the waistband gaps at the back, it may be a sign that the jeans are too big, and you should try a smaller size. If going down a size isn't an option Desperado does offer alterations and we happily hem all our regular-priced pants for free.
Number four… when looking for a good-fitting pair of denim jeans, it is also important to pay attention to the rise. The rise refers to the distance between the crotch and the waistband and can vary depending on the style of jeans. A low-rise will sit on the hipbones, while a high-rise will sit above your natural waistline. Kathi says having a clear idea of which rise you prefer can help you find a pair of jeans that will offer both comfort and style.
Finally, give us some time to help you and be ready to try on lots of jeans! That's why our Denim Fit Event on Friday, May 5th from 12:00 – 7:00 is a perfect place to start. Kathi says don't be discouraged if the first few pairs of jeans you try on don't work out – it can take time to find the right pair. Remember that the right pair of jeans will make you feel confident and comfortable, so take your time and enjoy the process! The divas are always here to help!