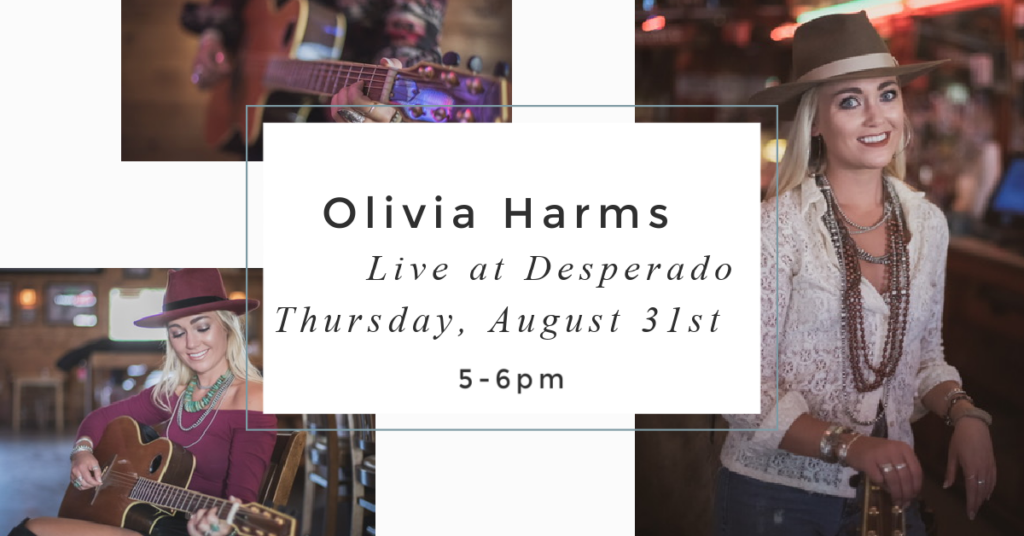 "I appreciate everybody in Central Oregon who still supports my music, and I can't wait to see my friends from years of music here in Bend and give them a hug," says Olvia. In our conversation with Olivia recently she gave us this update on how her musical career is going so far.  "My biggest accomplishment musically… I am not sure that's a hard question. But in 2022 I was in Cowgirl Magazine's, 30 under 30, and that was an honor," Olivia recalls.   "This last year my song 'Hey there Cowboy'  was my first song to be a top 20 hit down in Texas and got me nominated for new female vocalist of the year at the Texas Awards," says Olivia.   "But as far as accomplishments go, I'd say the best thing is meeting new people, going new places, and finding the folks that truly relate to my music that's better than any award I could receive," Olivia says with a smile.
Olivia will be playing at Desperado Boutique this coming Thursday evening, 8/31 from 5-6 p.m.  Her Happy Hour concert is free and open to the public.
Olivia Harms was born to Western Music royalty, but the rhinestone cowgirl has stepped out on her own to craft a sound that is equal parts Texas, Bakersfield, and Nashville country.
The daughter of Western Music Hall of Fame member Joni Harms, Olivia grew up on a 150-year-old ranch in Canby, OR, and made her first appearance on stage when she was two days old. Her mother had labor induced so she wouldn't miss her show. Twenty-seven years later, Olivia is following in her mother's creative "bootsteps" and basing herself out of Granbury, TX.
Olivia's second album "Rhinestone Cowgirl" was released in 2021. Produced by D. Scott Miller and recorded in Nashville, the 11-song collection calls out to the cowboys, name-drops George Strait, swings through Buckaroo territory, and packs plenty of twang and steel guitar. Olivia co-wrote every song. "I was going for a very traditional country vibe, but with some Bakersfield style country-western swing to bring back honky-tonks." Olivia explained.
Her artistic identity has been honed since she was an infant. The singer grew up performing on stage all over the world with her mother. Olivia remembers yodeling in Europe and singing "I Want to Be a Cowboy's Sweetheart" in New Zealand." When she was 6 years old, Santa Claus delivered her first guitar which sparked her love of songwriting. Ten years later, at 16 years old, Olivia went to Nashville to record her first album.
After high school, Olivia went to Oregon State University while further pursuing her music career and her second passion agriculture. She graduated college with a degree in agriculture business management and cattle production, then she dove headfirst into the music business. Olivia books her own shows, handles public relations, and manages all her social media accounts in addition to writing, recording, and playing more than 200 shows a year. "I try to be a real one-woman show," she said.
When Olivia was ready to record her second album. She wrote songs with noted country writers including Wood Newton (The Oak Ridge Boys "Bobbie Sue," Kenny Rogers "20 Years Ago") and Dennis Morgan (Barbara Mandrell "I Was Country When Country Wasn't Cool," Ronnie Milsap "Smoky Mountain Rain.") From her autobiographical "Gypsy" to the lighthearted "Hey There Cowboy" and the deeply personal "Goodbye," "Rhinestone Cowgirl" is Olivia Harms.
​After the release of her second album in 2021 Olivia was ready to hit the ground running after her dreams. She has since relocated to Texas and has released two singles to Texas Red Dirt Radio. Her first single, "Neon Blue," peaked at #29 on the Texas Top 100 Chart. Her highly anticipated second release, "Hey There Cowboy" debuted on the Texas Top 100 Chart after only 3 weeks and is on the rise!
Olivia has found her niche genre, playing music for Western lifestyle and honky-tonk lovers. She has been recognized for her hard work and perseverance to stay true to herself and play music that is authentic to her. In March of 2022, Olivia was honored to be in COWGIRL Magazine's third class of "30 Under 30", a gala hosted at The Drover Hotel in the Fort Worth Stockyards highlighting 30 western women under 30 years old who are making a difference in the western industry. Olivia was honored again in June of 2022 to be announced as "Singer of The Year" at the First Annual Women of The West Gala at the Cowgirl Hall of Fame Museum in Fort Worth, TX.
​These days, Olivia spends the majority of her time touring Texas and the surrounding areas, returning to the northwest for tours in the summer and winter. Regardless of where she hangs her hat, she's well in touch with her western roots.